F-18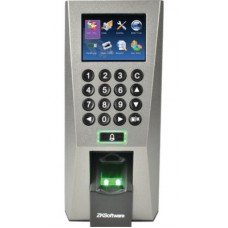 Features :
Three different kinds of interface style, including common, matrix and magic styles.
Reliable, durable and highly accurate ZK infrared detection fingerprint sensor with version 10.0 fingerprint algorithm.
Less than 1 second user recognition.Stores 1500 fingerprint templates and 30,000 transactions.
Reads fingerprint and/or RFID cards.
Built-in Serial and Ethernet ports.
Built-in Wiegand input/output port for connection to third part access control panels.Built-in USB port allows for manual data transfer.
Audio-Visual indication for acceptance and rejection of valid/invalid fingers.
Tamper switch and alarm contacts.